Hoover Met Complex
The Hoover Met Complex started in 1987 with the construction of the Hoover Metropolitan Stadium.  This stadium has 10,800 seats, 10 "skyboxes", and a large banquet room overlooking the field.  It hosts the Southeastern Conference baseball tournament yearly, with over 150,000 attendees over the week.
While it is a true baseball field, it can also support Cricket, American Football, Football and other similar sports.
There are also 5 full-size baseball fields, 5 multi-purpose fields, and 16 tennis courts.  The multi-purpose fields can support a variety of sports including American Football, Rugby, Football (soccer), and Lacrosse.   4 of the baseball fields can be setup for the sport of Cricket.   In 2019 Hoover hosted it's first Cricket tournament on the turf fields.
An important part of the Complex is the Explore Playground and "splashpad".  The Explore Playground is designed for children of all kinds and abilities, and people come from miles away to enjoy it.
Click here for more information on the Hoover Met Complex.
Finley Center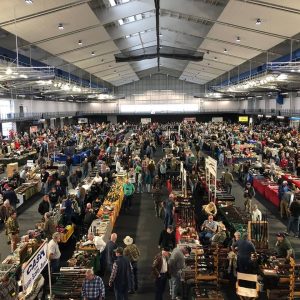 A part of the Hoover Met Complex, the Finley Center is a 1500 square meter sports and event facility that can host many different activities.   The facility can support 11 basketball courts, or 17 volleyball courts.  It can also host 300 tradeshow booths, or 350 tables, with an overal attendance capacity of 3500 people.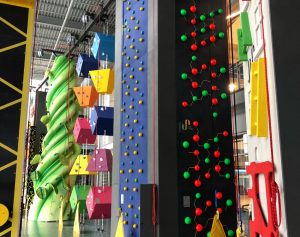 The Finley Center also hosts Hoover Climbing & Adventure, a climbing facility with multiple climbing walls of all kinds.  It allows children and adults to test their climbing skills in a fun and safe environment.
Aldridge Gardens
Aldridge gardens is a 0.15 sqkm woodland gardens in Hoover.  It is the former home and garden of noted nurseryman Eddie Aldridge and his wife Kay.  In 1997 they donated the land, including the house and a large lake, to the city for use as a public garden.  There are trails throughout the property featuring art, trees, hydrangeas, and other native plants.  The home hosts art shows and displays art from noted local artists.
Bonsai trees from a local collector are displayed throughout the year  In 2019, a Sakura garden was started in Honor of the People of Japan who live in Hoover.
Aldridge Gardens is the birthplace of the Snowflake Hydrangea, known around the world for its beautiful white flower clusters that open throughout summer.
Click here for more information on Aldridge Gardens or, watch this video.
Riverchase Galleria
More Info Coming Soon.
Golf Courses
More Info Coming Soon.
Hoover Public Library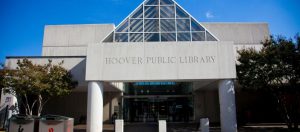 Founded in 1983, the Hoover Public Library is the highest circulated library facility in Alabama.  Nationally, our library was the runner up for Library Journal's National Library of the Year in 2010.
However, this important place is more than just a library.  It is a community hub of art, music, education, and all sorts of community activities.
Since 1993 the Hoover Library's "Southern Voices" festival has featured prominent authors and speakers , and the Library Theatre hosts regular shows and concerts to crowds where every seat is sold.
Click Here for more information on the Hoover Public Library
Moss Rock Preserve
Moss Rock Preserve is a 1.4 sqkm natural preserve in the heart of Hoover.  It features many different natural features including a large boulder field, and an extremely rare variant of Little River Canyon Sandstone Glade.  Many rare species of plants and animals live in the Preserve.
Moss Rock Preserve has 20 km of hiking trails, and the boulder field attracts rock climbers from all over the southeast.
Alabama Power Smart Neighborhood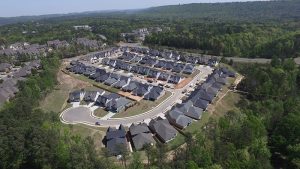 Alabama Power's first "Smart Neighborhood" was built in Hoover in 2018 in partnership with Signature Homes.  Featuring 62 homes that are 35% more energy efficient than current standard housing, the neighborhood is powered by a 3 acre 330 kW "microgrid" of solar panels, batteries, and a reserve natural gas generator.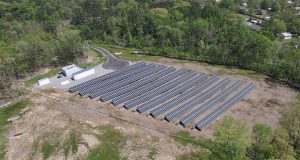 This neighborhood is a prototype for the neighborhood of the future, and has been featured in the U.S. Chamber of Commerce EnergyInnovates Initiative.
Hoover Senior Center
More info coming soon.
Parks
Hoover has many public parks and playgrounds.  Including:
Georgetown Lake Park
Howard Lake Park and Lakehouse
Inverness Park
Loch Haven Park (including dog park)
Russet Woods Park
Star Lake Park
Veterans Park
Wildflower Park
Ross Park[:ja]